Community Service Advertising
The Lind-Cares Program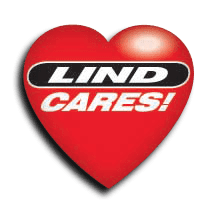 Lind views Public Service as a major force within our economy and one that is critical to improving our communities. Each year in Northern Ohio, Lind Outdoor donates over $100,000.00 in public service advertising. It is our way of proving that Lind Cares!
Lind Outdoor provides discounted Outdoor Advertising coverage to eligible non-profit community service, educational, political, and religious organizations. Eligible groups receive a 20% rate discount with no restrictions on location selection, posting or rotation. Public Service advertisers are afforded the same service, privilege and contract guarantees as non-discounted Lind clients. The Lind Cares! program includes rotary and permanent poster and bulletin advertising along with the versatile Lind Porta-Panel program. Please contact Lind Outdoor with any questions about this exciting, cost effective program.